The biggest news for car shoppers this year may be the rise of the electric truck. Converting America's pickups to electric vehicles (EVs) could save drivers money on gas and reduce air pollution while asking us to give up very little. But many truck buyers are skeptical. So who's going to buy the new electric trucks?
A new survey says: young men and tech-savvy shoppers.
The Electric Trucks are Coming
There are two electric pickups already in customer driveways and half a dozen more on the way in the next few years.
The GMC Hummer EV is a do-everything model with stunning off-road prowess and, for well-equipped early editions, a price tag of $112,000. The Rivian R1T, built by a California-based startup, has a separate motor for each wheel, innovative storage solutions, and a starting price of $67,500.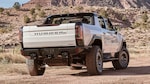 But more are coming. Ford begins building its F-150 Lightning for customers this week. An all-electric version of America's best-selling truck, it starts at $39,974. Chevrolet will introduce an electric version of its popular Silverado next year with a near-identical starting price. GMC hasn't fully revealed an electric Sierra to match it, but we expect it to soon.
Ram has its own electric 1500 coming by 2024. Tesla still plans to launch its long-teased offbeat Cybertruck next year. Kia may get in on the act. And a handful of other startups have electric trucks in the works.
But Traditional Truck Buyers Have Questions
Research has shown, though, that many of the people who usually buy trucks have their doubts about EV pickups. While most agree that electricity is the future of pickups, nearly half question the cost.
Others have doubts about towing. Tests have shown that EV trucks pull a load exceptionally well, but towing can cut their already-limited range in half.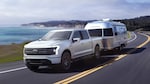 Young, Tech-Savvy Buyers Will Line Up First
A new survey shows that the first electric trucks may not sell to traditional truck buyers.
Researchers from Kelley Blue Book parent company Cox Automotive examined pre-orders for the Ford F-150 Lightning and results from Cox Automotive's annual Consumer Snapshot study to find out who was willing to buy electric trucks.
"Younger consumers – under age 35 – and current owners of SUVs and sedans are the most likely candidates to buy an electrified pickup truck," said Vanessa Ton, senior manager of Cox Automotive's Research and Market Intelligence team.
"The prospective buyers are mostly higher-income, tech-savvy males who are considering an electrified truck because of high gas prices or environmental reasons," she added. "They normally wouldn't consider a truck except for the fact that electrified ones are becoming available, and they are considering an electrified vehicle because it is offered in truck form."
About half of consumers who plan to buy a pickup in the next two years were open to buying an electric or hybrid model.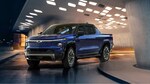 Shoppers over 35 are more likely to consider only traditional internal combustion engines for their pickup trucks than those under 35 by a wide margin. Of truck shoppers 35 or older, 53% said they would consider gas-powered only. Thirty-six percent of shoppers under 35 said they would consider gas only.
They Expect a Lot from Electric Trucks
Those who were considering an electric truck expect it to do everything a gasoline-powered truck can do and more. They expect the same or more torque and horsepower but more technology. That includes some tech features not available on gas-powered trucks.
Bi-directional charging – the ability to power tools or even other EVs and serve as a battery backup for a house during a power outage – was the feature shoppers wanted most.