In the field of all-electric luxury crossovers, the 2021 Audi e-tron and Jaguar I-Pace both offer style, elegant interiors, lots of technology, and good driving manners. Let's compare them.
 2021 Audi e-tron
2021 Auto e-tron Starting Price: $66,995 | Price yours or View listings near you
Above Average: Zero emissions; plenty of style; standard all-wheel drive.
Below Average: Range lags some competitors; prices can get expensive in top trims; unknown resale value.
Consensus: Sized roughly between the Q5 and Q7 SUVs, the 2021 Audi e-tron and e-tron Sportback are 5-passenger luxury SUVs fully powered by electricity. They provide all the luxury and technology features expected of an Audi, although its 222-mile range still falls behind the Tesla Model Y.
2021 Jaguar I-Pace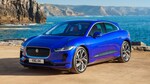 2021 Jaguar I-Pace Starting Price: $69,850 | Price yours or View listings near you
Above Average: Excellent driving manners; good power; sharp styling; some mile off-road ability.
Below Average: Expensive; no towing capability; slow charging; rear legroom's a bit tight.
Consensus: Quick, great to drive, and with a 234-mile range, the 2021 Jaguar I-Pace is surprisingly sporty and fun to drive, with plenty of style. It's expensive, however, and it's best for four passengers rather than five.
e-tron vs. I-Pace: Electrons Can be Fun
Audi e-tron
Committed to making electricity part of its future with its entire fleet eventually being electric or part electric, Audi now offers the 2021 e-tron and e-tron Sportback. The standard model looks like a slightly larger Q5, while the Sportback offers a more sloped roof.
With electric motors at the front and back and Audi's signature quattro all-wheel-drive, the e-tron is sure-footed and pretty quick, with a Boost mode (in the Sport setting) bringing horsepower from 355 to 402 and torque from 414 lb-ft to 490. In other words, it might be quiet, but it can get to 60 mph in 5.5 seconds. The range is just over 220 miles, which is about similar to other electric crossovers.
Inside, the e-tron is about what you'd expect from Audi, with quality materials and exceptional build quality. Refreshingly, it does not have any of those cute quirky touches that manufacturers sometimes like to add to remind you you're in an electric vehicle. There's plenty of seating for five, and a usable 57 cubic feet of cargo space with all seats folded, somewhat less in the Sportback. In front is a 12.3-inch driver information display and in the top middle a 10.1-inch infotainment touchscreen with an 8.8-inch lower unit handling climate control.
The base trim has leather seats and heated front seats, as well as a comprehensive list of safety systems that includes forward-collision warning with automatic emergency braking, blind-spot monitoring with rear cross-traffic alert, and lane departure warning. Upper trims add features like a 360-degree camera system, a 16-speaker/705-watt Bang & Olufsen stereo, and massaging front seats.
Jaguar I-Pace
As one might expect from a Jaguar, the 2021 I-Pace is very fun to drive, with loads of power and a suspension that allows it to corner both quickly and comfortably. With electric motors at each end sending power to all four wheels, a low center of gravity, and excellent suspension tuning, the I-Pace is not only stable but very composed in spirited driving.
And quick it is, with 394 horsepower and 512 pound-feet of torque hustling the I-Pace to 60 mph in a claimed 4.5 seconds. That's Porsche Boxster territory. The adaptive suspension also allows the I-Pace to be raised for all-weather duty and even light off-road driving.
Inside it's comfortable for four adults, although five can fit in a pinch. As with most crossovers, the I-Pace provides a raised driving position and decent outward vision, although there are some thick pillars. Luggage space is decent, with 25.3 cubic feet behind the rear seats expanding to 51 cubic feet with all seats folded, with a small storage space under the front hood as well.
One thing the 2021 I-Pace is not is cheap. It starts close to $70,000 but does come well equipped. Standard equipment includes a fixed panoramic sunroof, 8-way power-adjustable front seats, and simulated leather upholstery.
Among the driver-assists are forward-collision warning with automatic emergency braking, lane-keeping assistance, rear cross-traffic alert, front and rear parking sensors, and automated parking assistance. Infotainment comes via an 11.4-inch touchscreen with navigation, Bluetooth, Wi-Fi, Apple CarPlay/Android Auto integration, and an 11-speaker/380-wat Meridian sound system. Upper trims get things such as 22-inch wheels, a 360-degree camera system, and a 15-speaker/825-watt Meridian audio system but prices can climb into the $80,000 range.
Similarities
All-wheel drive; fun to drive; starting price; MPGe; uncertain resale values.
2021 Audi e-tron Advantages
Maximum cargo space; warranty; charging time; more rear-seat space; two body styles.
2021 Jaguar I-Pace Advantages
Power; slightly longer range; some off-road capability.
Which One is Right for Me?
The 2021 Audi e-tron is the logical choice here if you need a bit more room. Also, it offers two different looks — a more traditional SUV profile or a coupe-inspired fastback. The basic bumper-to-bumper warranty is also longer.
The 2021 Jaguar I-Pace may be your cup of tea if you're looking for an engaging driving experience along with a modicum of off-road performance. The range is slightly longer, but the sticker price rises quickly on the upper trims.
Ready to buy an Audi e-tron or Jaguar I-Pace? Shop for one on sale now near you. 
| | | |
| --- | --- | --- |
| | 2021 Audi e-tron | 2021 Jaguar I-Pace |
| Popular Powertrains | | |
| Electric Motor | 141 and 172 kW AC 3-Phase | 147/147 kW AC 3-Phase |
| Horsepower | 355 hp | 394 hp |
| Torque | 414 lb-ft | 512 lb-ft |
| EPA Driving Range | 222 miles | 234 miles |
| EPA Fuel Economy | 78 city/78 hwy MPGe | 80 city/72 hwy MPGe |
| Level 2 Charging Time | 10 hours | 13 hours |
| Battery pack | 95 kWh Li-ion | 90 kWh Li-ion |
| Specs | | |
| Warranty | 4 years/50,000 miles | 3 years/36,000 miles |
| Battery warranty | 8 years/100,000 miles | 8 years/100,000 miles |
| NHTSA Safety Rating | 5 stars | n/a |
| Max Seating Capacity | 5 | 5 |
| Wheelbase | 115.3 inches | 117.7 inches |
| Overall Length | 193.0 inches | 184.3 inches |
| Width | 76.2 inches | 79.2 inches |
| Height | 65.5 inches | 61.3 inches |
| Turning Diameter | 40.0 feet | 39.3 feet |
| Headroom, Front | 38.1 inches | 39.9 inches |
| Headroom, Rear | 39.0 inches | 38.1 inches |
| Legroom, Front | 40.8 inches | 40.9 inches |
| Legroom, Rear | 39.1 inches | 35.0 inches |
| Shoulder Room, Front | 58.6 inches | 57.6 inches |
| Shoulder Room, Rear | 57.2 inches | 54.6 inches |
| EPA Passenger Volume | n/a | 98.0 cu. ft. |
| Cargo Volume | 57.0 cu. ft. | 52.0 cu. ft. |